We are Gatefy, the solution to improve your business's email security
Hello! Have you heard of Gatefy? We're a startup that develops email protection solutions for companies and organizations.
We use artificial intelligence, machine learning and other technologies to improve your company's email security, fighting spam, phishing, spear phishing, BEC (Business Email Compromise), ransomware and other advanced threats.
Did you know that email is the platform most exploited by hackers to commit scams and fraud?
This is the reason why we're here. Gatefy's goal is to prevent companies from falling victim to scams and fraud on the internet.
According to the FBI, for example, cyber attacks caused losses of more than USD 3.5 billion in 2019. Of this amount, USD 1.7 billion is related only to BEC scams, which is an email fraud.
Another alarming fact, from a Verizon's report, is that out of every 10 attempts at infection using malware, 9 happen via email.
Businesses, therefore, must invest in email security.
Identify advanced and targeted threats and block them faster with Gatefy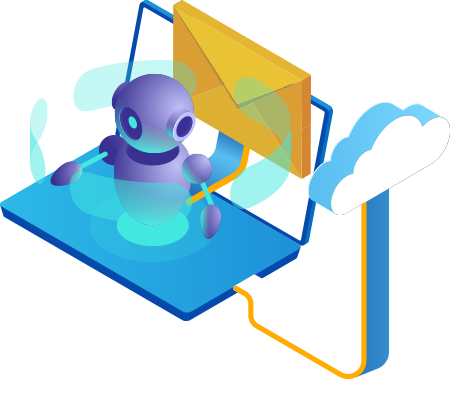 4 key points related to email protection
According to our CEO, Felipe Guimarães, there are 4 key points that businesses need to keep in mind when it comes to email security.
Preventing data breaches.
Employees' productivity.
Damage and inconvenience caused by cyber attacks.
Compliance with laws and regulations, such as GDPR and CCPA.
"If your company is vulnerable and receives, for example, a lot of junk email often, this directly interferes with the productivity of your team and even increases the chances of your business being hacked", exemplifies Felipe.

Startup was born from the cybersecurity experience
Gatefy was created in 2017 naturally due to the information security experience of the two founding partners. For more than a decade, they have worked with several security solutions on the market.
"But there were many issues that the industry didn't address. We perceive that as an opportunity to innovate and incorporate new technologies ", explains Guimarães.
Email security for businesses
Today, we have 2 main products that are already on the market: a Secure Email Gateway (SEG) solution and a DMARC-based anti-fraud solution.
Both products are offered as a SaaS solution (software as a service). In other words, it's easy and simple to deploy them. They have integration with several email platforms, such as Office 365, G Suite, Exchange, and Zimbra.
Secure Email Gateway (SEG)
Gatefy Email Security is a Secure Email Gateway solution. The goal of Gatefy's SEG is to analyze messages to detect unwanted and dangerous emails, like spam and phishing, that may cause damages to the company, such as a data breach.
According to Gartner, many companies complain about the basic security features of different email services, such as Office 365 and G Suite, choosing to reinforce their email protection with third-party solutions.
In this context, Gatefy Email Security emerged as an alternative for businesses offering a great value for money.
Anti-fraud solution based on DMARC
Gatefy also has an anti-fraud solution based on DMARC. Gatefy Anti-Fraud Protection is a tool for domain protection.
The solution provides full visibility into the company's domain, blocking cybercriminals who try to use the organization's domain to deceive employees, customers and partners.
In short, Gatefy Anti-Fraud Protection helps to protect the company against scams, to prevent brand abuse and to improve email deliverability.
"One of our goals is to expand access to information security solutions. Many people still believe that products like ours are exclusive tools for large companies, when in fact the reports show that more and more hackers are targeting small and medium businesses", explains Gatefy's CEO.
Email protection solutions
Don't forget to share this post